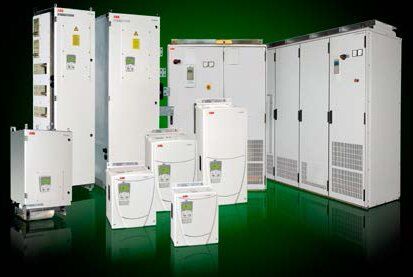 Low voltage DC drives
ABB DC Drives
DCS800, 10 to 4000 hp
DCS800 Enclosed Converters
The DCS800-A enclosed converters are drive modules and supporting hardware that is mounted in an enclosure, intended to power and control DC industrial machines. In addition to the drive module, the basic package typically includes the following (varies by size):
Single-door / multi-door cabinet (IP 21, similar to NEMA 1)
Fused disconnect / circuit breaker
Line contactor
Line reactor
Control transformer and fuses
Converter fan relay and fuses
E-stop relay
I/O converter board – SDCS-IOB-2x
I/O converter board – SDCS-IOB-3
Terminals
Comprehensive Product Range

DCS800-A enclosed converters are available with regenerative (4-quadrant) and non-regenerative (2-quadrant) drives in standard 6-pulse or 12-pulse configurations. The cabinets have a continuous current rating which ranges from 18 Amps up to 9800 Amps. (19,600 Amps possible with parallel units.) Supply voltage ranges from 230 to 1200 Vac.
Custom configurations are possible with a wide range of optional components, including motor blower starter, 24 Vdc supply, external field supply, multiple drives, Advant (AC 800M) controller and S800 I/O system. Contact your local ABB factory sales team for additional information and for a custom quotation.
These cabinets are not UL listed. For large projects, UL listed cabinets may be available. Contact ABB for more information.
Cabinets are built to meet CE LVD regulations and, with options, can be built to receive the CE mark.
Mechanics
The robust frame body is made from 12 gauge steel. All enclosure panels are 16 gauge steel. To prevent corrosion, all metal parts have hot zinc galvanization. The standard height is 83-1/2 inches (2120 mm) which includes a detachable 4-1/2 inch high hood. Cabinet widths depend on the power and size of the drive but include 200, 400, 600, 800 and 1000 mm wide bays.
---
© Copyright 2016 ABB. All rights reserved.
Specifications subject to change without notice.
ABB DCS800 DC Variable Speed Drives

---