As of March 26, 2010 Joliet Technologies is no longer representing the Avtron line of products.
We do however represent the Dynapar line of Rotary Feedback Products.

Avtron – Adjustable Speed Drives and Drive Systems
Joliet Technologies is the preferred Avtron Integrator for the Chicagoland area.
Adjustable Speed Drives and Drive Systems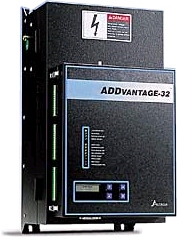 Drives and Drive Systems are a vital part of any process requiring the control of motors… one or many. Avtron's ADDvantage-32TM Digital Drive provides new and retrofit (new Digital electronics firing the existing SCR's or new electronics for a Motor Generator Set) control in applications throughout the world. The ADD-32TM can be found in the pulp and paper, rubber, steel/metals, and plastic industries as well as Mining and Marine operations. Anywhere a motor is running and its operation has to be controlled and monitored precisely, a Digital Drive like the ADD-32 is required.
A Digital ADD-32 Drive can be used on an isolated motor or as part of a system, managing an entire mill operation. Avtron is a state-of-the-art U.S.A. manufacturer of advanced digital drives and drive systems. We can supply a full range of drive products and services including:
Digital DC Drives
Digital AC Flux Vector Drives
Rebuilds/retrofits of older analog drives
Programmable logic controllers, drive interface software
Operator stations, motors, and power distribution equipment
Tachometers, Encoders, Rotary Pulse Generators
System engineering capability including turnkey installations
Field or customer service and training
ADDvantage-32TM and ADD-32TM are trademarks of Avtron Mfg., Inc.
Call Joliet Technologies TODAY 
If you have any questions concerning Avtron's Adjustable Speed Drives and Drive Systems or related products, please contact us by:
Phone (815) 725-9696,
Toll Free (866) 492-9888,
Fax (815) 725-9393 or
E-mail info@joliettech.com
---
Joliet Technologies is an OEM that custom packages, integrates and engineers AC Variable Frequency Drives (VFD), DC Variable Speed Drives (VSD) and AC Drive Controllers. Our drive systems integrate top of the line manufacturers, like ABB, Emerson (Control Techniques & Saftronics / Fincor), Siemens and WEG to name a few. Our added value custom drive packages are built to your specifications for your application. We specialize in large horsepower drive systems (500Hp and above). Call us at (815) 725-9696 or fax us at (815) 725-9393 or e-mail us or fill out an RFQ with your requirements. Serving the greater Chicagoland area and the World.