As of March 26, 2010 Joliet Technologies is no longer representing the Avtron line of products.
We do however represent the Dynapar line of Rotary Feedback Products.
Avtron – Adjustable Speed Drives and Drive Systems
Joliet Technologies is the preferred Avtron Integrator for the Chicagoland area.
Adjustable Speed Drives and Drive Systems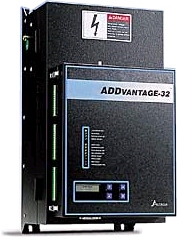 Drives and Drive Systems
The ADDvantage-32 DC Digital Drive has been designed for quick and easy integration into a system. The drive offers advanced communication, coordination interfaces, and advanced regulation functions in the drives.
Avtron offers Digital AC Flux Vector Drives for simple/stand alone applications and for complex system applications. Designs are available with integral DC converter or for common DC bus applications. The drives include digital coordination, advanced communication, and high-performance in a compact, easy to apply package.
Avtron has specialized in DC Drive and System Retrofits for two decades, modernizing old/outdated drive systems by adding digital regulating modules. The ADDvantage-32 modules are used on Avtron's DC drives and they can be configured specifically for retrofit applications.
If you would like a Price Quotation on Digital Drives and Drive Systems, please use the link below.
---
Call Joliet Technologies TODAY 
If you have any questions concerning Avtron's Adjustable Speed Drives and Drive Systems or related products, please contact us by:
Phone (815) 725-9696,
Toll Free (866) 492-9888,
Fax (815) 725-9393 or
E-mail info@joliettech.com
---
Joliet Technologies is an OEM that custom packages, integrates and engineers AC Variable Frequency Drives (VFD), DC Variable Speed Drives (VSD) and AC Drive Controllers. Our drive systems integrate top of the line manufacturers, like ABB, Emerson (Control Techniques & Saftronics / Fincor), Siemens and WEG to name a few. Our added value custom drive packages are built to your specifications for your application. We specialize in large horsepower drive systems (500Hp and above). Call us at (815) 725-9696 or fax us at (815) 725-9393 or e-mail us or fill out an RFQ with your requirements. Serving the greater Chicagoland area and the World.