PLEASE NOTE: Effective 2019, we no longer supply Control Techniques variable frequency drives and components. We have drives from several other manufacturers which can meet or exceed the performance characteristics of the Control Techniques line. Simply complete the form below, or contact us with the model of your current or obsolete Control Techniques drive and we'll be glad to identify a suitable replacement.
Also, the Fincor and Saftronics lines of AC variable frequency drives, DC variable speed drives, and reduced voltage starters were once owned by Emerson but have been obsolete for several years. However, we have many years' experience working with these drives and can quickly identify replacements capable of exceeding the quality and performance of these older drive technologies. For a suitable replacement, fill out the form below or contact us with your drive or application requirements, and we'll handle it from there!
---
| | |
| --- | --- |
| |   |
(Obsolete) Saftronics PC10 Mini Vector AC Drives (Obsolete FINCOR Series 5750)
Saftronics PC10 AC Drives are Obsolete and No Longer Available – They have been Replaced with the Saftronics CV10 Compact Vector AC Drives.
Options & Accessories
HMI Pump Controller
Part number – 043-0907
Function
Provides an economical pump controller for standalone pumping systems
Features
4 line 20 character backlit LCD
Built-in buzzer for alarm
Easy to use keypad (12 keys)
Custom pump control program
Real time clock and calendar
Pump system specific functions:

PI control (normal and reverse operation)
Level control
Start/Stop timer control
Programmable shutdown levels
High pressure shutdown function
Automatic restart function
History logging up to 1 month
Programmable user units (PSI, GAL, %, GPM etc.)
Anti-backspin function

Custom configurable monitor screens ————————————————-
Password protection for monitor and parameter section
Automatic drive reset function
Internal feedback function (e.g. PI control based on output current)
21 monitor signals (motor torque, total accumulation of gallons, etc.)
Local/Remote control
19.2 KB communication speed
Windows based tool, to Saflink pump master program
Specifications
Communications – HMI to PC10 – RS485 (2 wire) HMI to PC – RS232 (Pump Master Saflink)
Power Supply – 9V to 40V DC (100 mA @ 24 VDC) (Can be supplied as an option PIN 012-1605)
Mechanical – Enclosure size: 5.7″ x 6.7″ x 2.0″ Can be wall or panel mounted
Connection Diagram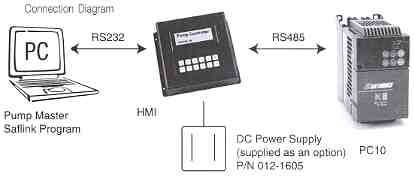 To purchase any Saftronics drives or information regarding Saftronics drives and Accessories, contact us at: Phone (815) 725-9696,  Toll Free (866) 492-9888, Fax (815) 725-9393 or E-mail info@joliettech.com
Call for availability of drives, and freight options. 
All prices are subject to change without notice.