Commander SK

Simplicity with Function
---
PLEASE NOTE: Effective 2019, we no longer supply Control Techniques variable frequency drives and components. We have drives from several other manufacturers which can meet or exceed the performance characteristics of the Control Techniques line. Simply complete the form below, or contact us with the model of your current or obsolete Control Techniques drive and we'll be glad to identify a suitable replacement.
---
Specifications and Dimensions
Options
SPECIFICATION
Environment
IP20
UL TYPE lor NEMA 1 rating with optional cover + conduit entry kit
Ambient temperature -10°C to +40°C @ 3kHz switching
Humidity 95% maximum (non-condensing)
Electromagnetic Immunity complies with EN61800-3 and EN61 000-6-3 and 4
Electromagnetic Emissions complies with EN61800-3 (second environment) as standard. Complies with EN61O00-6-3 (residential) and EN61 000-6-4 (industrial) generic standards with optional footprint EMC filter
Control
Open loop vector control, V/Hz
Speed or torque control
Reference input: 0-1 OV, 0-20mA, 4-20mA, Presets, Pulse, PWM (-10 to + 10V SM-I/O Lite option)
Digital I/O – All configurable

4 inputs, not stop, run, jog, 10caVremote (default)
1 I/O zero speed (default)
1 relay drive health (default)

Switching frequency: 3kHz (default)

230V: 6, 12, 18kHz
460V: 6, 12kHz

Output frequency 0 to 1500Hz
Accel and Decel ramps (linear and S type)
Positive logic control
Serial communication

Modbus RTU RS485 via R J45 connector
Baud rate 4800, 9600, 19200 or 38400 bits per second

DC injection braking as standard
Dynamic braking transistor as standard
Dynamic motor flux V/Hz for energy saving
Quadratic motor flux V/Hz for fan and pump optimization
Protection
Undervoltage, Supply and DC Link overvoltage, Phase loss, Drive overload, Instantaneous overcurrent, Short circuit, Ground fault. Drive thermal, Watchdog, Motor thermal
General Characteristics
Maximum overload 150% of rated current for 60 sec
Intelligent Thermal Management (lTM) optimizes switching frequency
8 preset speeds
Flying start
Mains dip ride through
Automatic no-spin autotune for fast performance optimization
Keypad access to all parameters for more demanding applications
Approvals & Listings
UL, cUL
IECCE
UL
ISO 9001 :2000
ISO 14001
UL File Listed 8D14
Meets IEC Vibration, Mechanical Shock and
Electromagnetic Immunity Standards
Low Voltage Directive
UL type 1 with kit
Certified Manufacturing Facility
Certified Manufacturing Facility
DIMENSIONS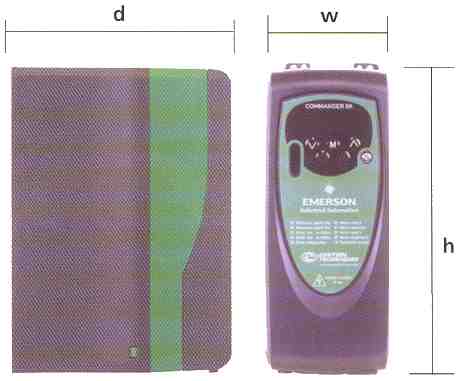 Drive
Size
w
h
d
in
mm
in
mm
in
mm
A
2.95
75
5.5
140
5.71
145
B
3.35
85
7.48
190
6.14
156
C
3.93
100
9.45
240
6.81
173
Information provided by Control Techniques, a world leader in the design, production and marketing of electronic drives for the control of electric motors.