Options & Accessories

CV10 Bi-Polar Speed Reference Option Card

Dimension Sheets
Options & Accessories
Name
CV10 Bi-Polar Speed Reference Option Card

---

Part Number
100-0186-01

---

Function
It provides forward and reverse speed control by following an external bi-polar input speed command signal of +1 OVDC to -10VDC. This signal from the users' equipment, such as a PLC or control transducer, is converted into a usable command for the CV10 by the option card, controlling speed and direction.

---

Specifications
Input Control Voltage – +10VDC to -10VDC
Input Resistance – 680 ohm

---

Connection Diagram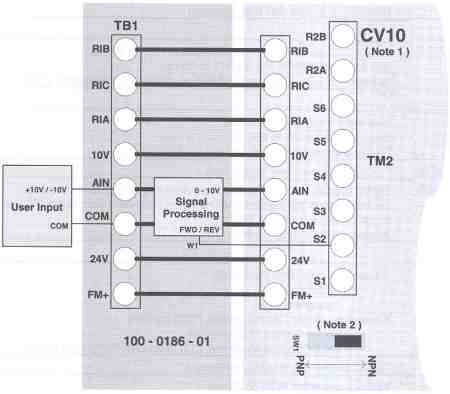 NOTES: 
Set drive parameter 1- 01 = 0001 ( Run / Stop – Forward / Reverse ) 

Set Switch SW1 to NPN.
Call for availability of drives, and freight options. (815) 725-9696
All prices are subject to change without notice.
To purchase any Saftronics drives or information regarding Saftronics drives and Accessories, contact us at:
Phone (815) 725-9696,  Toll Free (866) 492-9888, Fax (815) 725-9393 or
E-mail info@joliettech.com
Need to run a 230V, 3Ph motor with 230V, 1Ph input?
Joliet Technologies is pleased to announce that we have the solution to run  most 230V, 3Ph motors with only 230V, 1Ph input!
For more info, contact us.