MOTORTRONICS
Medium Voltage
Solid State Soft Starters

5kV, 7kV and 15kV Class

Integration and Technical Highlights

Advanced motor control, protection and monitoring in a reliable, field-proven soft starter




Advanced Integration
Specifically designed for ease of integration into automated systems, the MVC Plus Series offers communications and flexible I/O as standard.
Flexible I/O
120Vac control power input accepts long control circuit runs without the need for interposing relays.
8 programmable relay outputs for control flexibility without the need for external auxiliary relays or add-on cards.
2 programmable analog outputs (0 – 10Vdc or 4 – 20mA).
Communication Ready
Built-in comm ports
RS-232 for one on one communications with a PC.
RS-485 for multi-drop communications with Modbus RTU protocol as standard.
Multi-Drop
For on-line monitoring, control and programming, the MVC3 Control Center software uses the standard RS-485 port to communicate via Modbus RTU protocol.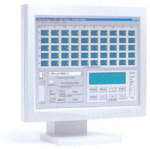 Multidrop compatible for communicating with multiple units in the field, global data such as operating currents, voltages, power factor, etc. can be displayed for each unit. Individual parameters for any selected unit are displayed in the lower right section of the screen, and are fully interactive in real time. Anything that can be done at the unit can be done via software. Communications options include DeviceNet, Fieldbus, Ethernet and several others.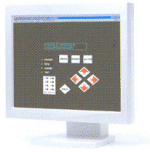 One to One
Program and store soft starter setpoints with Windows based software, MVC3-Win. The software uses the RS-232 port to duplicate the operator interface on the screen and steps through the setup or storage of operating parameters.
Technical Highlights
of the Motortronics MVC Plus Series
Type of Load
3-phase medium voltage AC induction or synchronous motors
AC Supply Voltage
2300, 3300, 4160, 6000/7200V, 11-15kV
V AC + 10% to -15%, 50/60 Hz line voltages
HP Ratings
Up to 7500HP @ 7.2kV (600 Amps max)
Up to 15000HP @ 15kV (600 Amps max)
Contact factory for higher rating requirements
Overload Ratings
500% – 60 seconds, 600% – 30 seconds
Power Circuits
Series strings of SCR power modules (1,2 or 3 matched pairs of SCRs per phase depending on voltage rating)
SCR Peak Inverse Voltage
Line Voltage
PIV Rating
2300
6500
3300 – 4160
13000
6000 – 7200
19500
11000 – 15000
39000
BIL Rating
2300V – 7200V 60kV
11 000 – 15000V (11 OkV)
Transient Voltage Protection
dv/dt circuits (1 per SCR pair)
Vacuum Bypass Contactor
Standard on all models, line start rated
Ambient Operating Conditions
0 – 50°C (82° F to 122° F) (Optional-20° to 50° C with heaters)
5 – 95% relative humidity
0 – 3300 ft (1000m above sea level without derating)
Digital Control Unit (DCU)
Programmable keypad/operator with 2 lines x 20 character backlit LCD display, Status/Alarm LEDs (indicate: Power, Run, Alarm, Trip, Aux 1 – 8)
Auxiliary Contacts
Multiple Form C contacts rated 5A @ 250VAC max,
6 fully programmable relays (including fail-safe operation)
5 dedicated relays (fault, at-speed, etc. )
Programmable Features
Motor FLA, service factor, insulation class
Dual Ramp Adjustments – Two independent settings for:
Initial Torque
0 – 100% of nominal torque, voltage or current
Current Limit
200 – 600% of motor FLA
Acceleration Time
1 – 120 seconds
Three Custom Curves
Via plotted torque/time axis points
Pump-FlexTm Decel
1 – 60 seconds with begin & end torque adj
Kick Start
0.1 – 2.0 seconds (10 – 100% voltage)
Tach Feedback (option)
Closed loop speed ramp
Motor and Starter Protection
Electronic Overload
Phase Loss
Phase Imbalance
Phase Reversal
Short Circuit Detection
Over / Under Current
Over / Under Voltage
Shorted SCR / Shunt Trip
Starter Over-Temp
Coast Down Lockout
Starts per Hour Lockout
Time between starts
RTD Input (Option)
Ground Fault (Option)
Statistical Data
Elapsed run time, last start time, average starting current, stores history of up to 60 events (data includes date & time, phase& ground fault current). Also displays time-to-trip, remaining inhibit time and starts/hour values.
Metering (Voltage & Current)
Percent of FLA, phase currents, kV AR, kV A, kW, power factor, demand, avg. start current, remaining thermal register, thermal capacity to start, measured capacity to start, time since last start, line frequency, phase order, RTD values (optional)
Enclosure
NEMA 12 with 3R optional (not for direct sun applications), top and bottom entrance plates, 11 gauge steel, ASA #61 gray powder coated paint
Communications
RS485 with Modbus RTU protocol or RS232 with windows interface
Standard MVC3 Class E2 Soft Starter

Volts

Max.
Amps

Nominal
Max. HP

KW

Model

NEMA 12/3R

Model

NEMA 12/3R

H

W

D

H

W

D

2300

200

800

500

MVC3-23200-E-SWG

92

36

30

MVC3-23200-E

92

36

30

400

1500

1000

MVC3-23400-E-SWG

36

MVC3-23400-E

600

2500

1900

MVC3-23600-E-SWG

72

MVC3-23600-E

3300

200

1000

600

MVC3-33200-E-SWG

92

36

30

MVC3-33200-E

92

36

30

400

1800

1200

MVC3-33400-E-SWG

36

MVC3-33400-E

600

3000

2200

MVC3-33600-E-SWG

72

MVC3-33600-E

4160

200

1250

1000

MVC3-41200-E-SWG

92

36

30

MVC3-41200-E

92

36

30

400

2500

2000

MVC3-41400-E-SWG

36

MVC3-41400-E

600

5000

3750

MVC3-41600-E-SWG

72

MVC3-41600-E

6000/7200

200

2500

2000

MVC3-60200-E-SWG

92

72

30

MVC3-60200-E

92

36

30

400

5000

3750

MVC3-60400-E-SWG

MVC3-60400-E

600

7500

5600

MVC3-60600-E-SWG

MVC3-60600-E

72

11 – 15kV

300

7500

5700

MVC3-130300-E-SWG

Contact factory

Contact factory

600

15000

11000

MVC3-130600-E-SWG
Contact Joliet Technologies for pricing,
availability and freight options.
Phone: (815) 725-9696 or
Toll Free: (866) 492-9888
Fax: (815) 725-9393
E-mail: info@joliettech.com
RFQ – Request for Quote